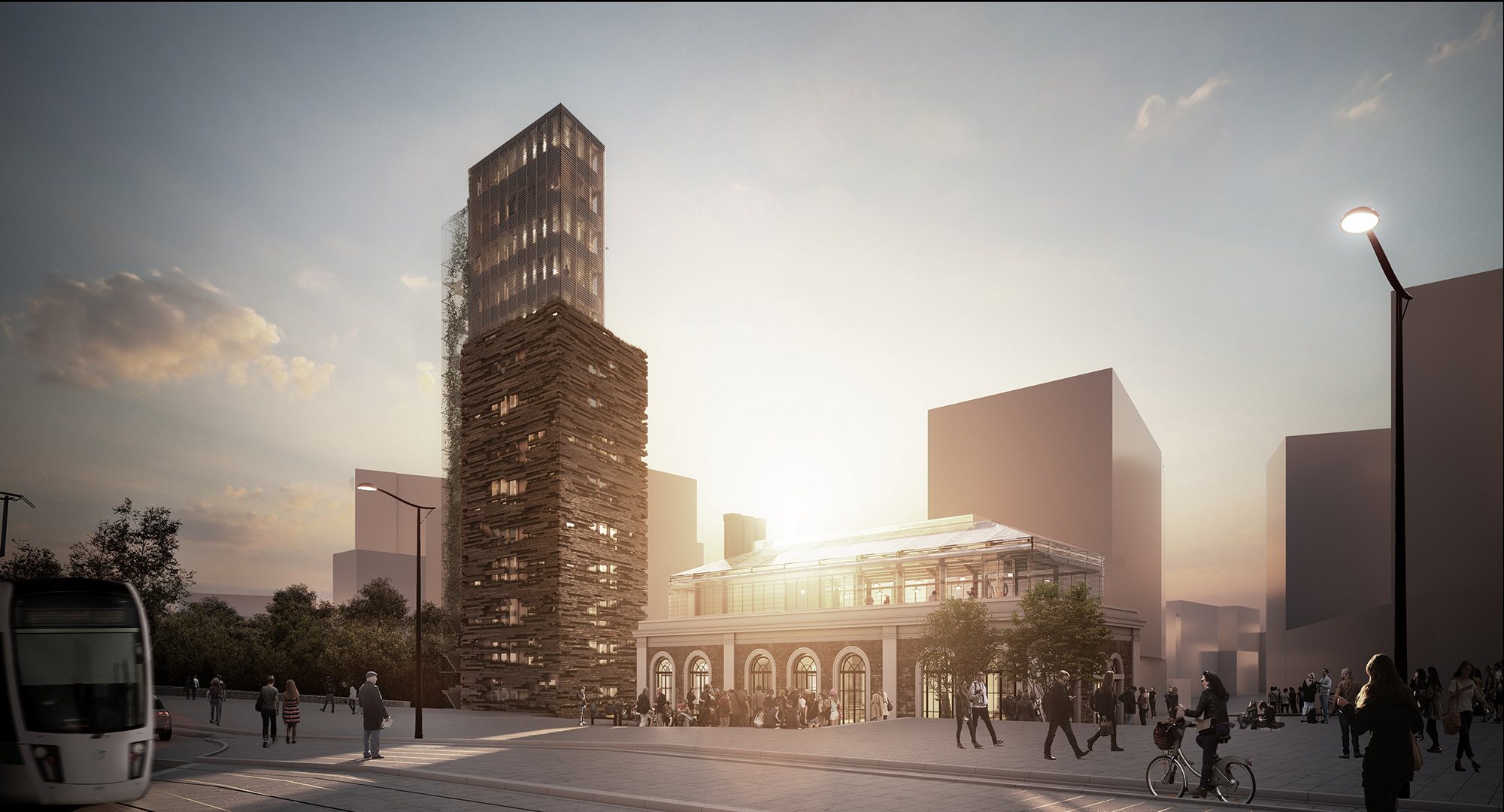 Reinventing Paris
To respond to the consultation Reinventing Paris, Fresh, together with Segat and Emmaüs, surrounded itself with a team with extensive know-how from engineering to digital design: Philia, Ciloger, the landscape artist Rémi Algis and the visual design agency Superbien. They opted for the site of the former Massena station. The team would reach the finals with a chocolate factory, its coffee roasting space and its kitchen workshops: a project around the flavours of the global city. Proximity services, urban agriculture, circular economy, sharing of know-how, opening, continuous evaluation or co-construction and shared rent: the topics broached by the project follow and rewrite the history of this neighbourhood in the 13th arrondissement. In short, the project in cross-section, juxtaposes three elements: the old Massena railway station conserved but revamped, a taller building clad with timber beams where vegetation nestles and a monumental staircase to connect both. The aim of the project is to relocate the neighbourhood's artisanal production by sharing tools, premises and resources, and to reintroduce artisanal and gastronomic expertise to Massena.
Reinventing Paris
Program: A project around the flavours of the global city
Area: Gare Masséna, Paris 13.
Area: Shops 690 m2, housing 1360 m2.
Cost: 6,5 M euros HT.
Certifications: Plan Climat de la Ville de Paris et BBC Effinergie.
Delivery: finaliste – 2015.
Team: Ville de Paris, SEGAT, EMMAÜS, PHILIA, CILOGER, RÉMI ALGIS, SUPERBIEN, MICHELEZ NOTAIRES, NOBATEK, AEDIS INGENIERIE, BTP CONSULTANTS, STRATÉACT, JIGEN, BITP.